Munguia defends WBO junior middleweight title with third-round TKO
Jaime Munguia has just defended his WBO junior middleweight title with a third-round TKO of Canada's Brandon Cook. The 21-year-old emerging star from Tijuana dominated from the opening bell, battering his opponent and dropping him early in the third before referee Tony Weeks waved it off at the 1:03 mark. Munguia improves to 31-0 with 26 knockouts.
And so the three televised undercard bouts have ended in a fifth-round TKO, a first-round KO and a third-round TKO. The last one ended at 9:32pm local time, which means we've got at least an hour and a half of time to kill before Álvarez and Golovkin make their ringwalks. Should make for an interesting telecast.
Anyone hoping the organizers might take mercy on the viewers and start it sooner should bear in mind the arena is at least two-thirds empty at the moment. The earliest the fighters will walk is 11.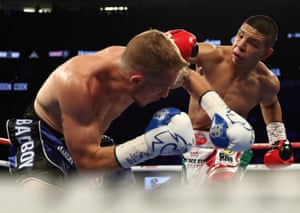 Updated

Chocolatito, Lemieux win undercard bouts with highlight-reel knockouts
Two of the three televised preliminary bouts are in the books. They lasted a combined six rounds. The second was finished at about 8:45pm local time and Álvarez and Golovkin won't be making their ringwalks any sooner than 11pm. That means broadcasters will have a lot of time to kill between now and the main event.
In the opener Roman 'Chocolatito' Gonzalez, the former four-division world champion from Nicaragua, stopped Mexico's Moises Fuentes with a vicious one-punch knockout.
Gonzalez (47-2, 39 KOs), who ranked No 1 on most pound-for-pound lists until back-to-back losses to WBC super flyweight champion Srisaket Sor Rungvisai, beat up Fuentes from the opening bell until stopping it with a devastating right hook at 1:44 of the fifth round.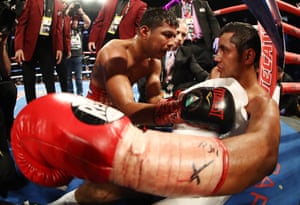 "When he hit the floor, I got very worried for him and I panicked," Gonzalez said through a translator. "And when he regained consciousness and I prayed for him and I told him that I hope God blesses him, his family and his career. I asked for him to forgive me, because this is the job that we chose and that I didn't mean to hurt him."
Next, Canada's David Lemieux scored a savage first-round stoppage of Ireland's Gary O'Sullivan in a WBA middleweight title eliminator to put an emphatic period on their ongoing war of words.
The hard-hitting Lemieux (40-4, 34 KOs) detonated a perfect left hand square on the Cork man's jaw which sent him clattering to the canvas late in the opening round. O'Sullivan tried to beat the count but referee Russell Mora didn't like what he saw, waving it off at the 2:44 mark.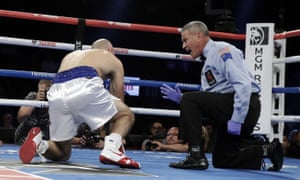 "Don't piss me off, guys," Lemieux said afterward in an in-ring interview with HBO's Max Kellerman. "I guess the message should be clear. I didn't like all that trash-talking that was done to me before the fight by O'Sullivan. … I don't trash talk at all. I don't respect that type of behavior."
According to the famed Canadian trainer and cutman Russ Amber, Lemieux rehydrated to 179lbs while O'Sullivan only climbed to 164lbs after yesterday's weigh-in. It showed.
Updated

Preamble
Hello and welcome to the Las Vegas strip for tonight's hotly anticipated rematch between Canelo Álvarez and Gennady Golovkin. We're ringside at the T-Mobile Arena where a capacity crowd of more than 22,000 is expected to watch two of the most accomplished fighters of their generation attempt to stamp a definitive conclusion on what's become a highly caustic rivalry since their first meeting last year ended in controversy.
That first encounter was a contest of extreme physical and psychological intensity, a rare superfight that managed to not only meet but exceed the hype. Until, that is, the decision. Most at ringside, in the crowd and watching at home believed the Kazakh knockout artist known as Triple G did enough to win on points. But the official verdict – including the mystifying score of 118-110 to Álvarez handed down by Adalaide Byrd – was a widely disputed split draw that denied Golovkin what should have been the defining moment of a career spent largely out of the mainstream spotlight.
The inevitable rematch was quickly made for Cinco de Mayo weekend. Yet the discontent of Golovkin, who turned 36 in April, only redoubled after Álvarez failed a pair of Wada-administered urine screenings for the banned substance clenbuterol which the Mexican claimed was a result of contaminated meat consumed while training in Guadalajara. The excuse satisfied neither the Nevada Athletic Commission (NAC), which slapped him with a backdated six-month suspension, nor Golovkin, who has been relentless in his branding of the Mexican superstar as a drugs cheat whose prominence debases the sport.
And so the mutual respect that marked the run-up to their first installment has been supplanted by genuine rancor and discord to the point where they refused to hold a joint news conference announcing the rematch. Their only face-to-face meeting since last year's first installment, in fact, was their contentious staredown at yesterday's weigh-in.
Which brings us to tonight.
Golovkin (38-0-1, 34 KOs), the sport's longest reigning active champion, is defending the WBC and WBA middleweight titles, as well as the lesser IBO strap.
Álvarez (49-1-2, 34 KOs) enters as the Ring magazine and lineal middleweight champion by virtue of a 2015 win over Miguel Cotto, albeit at a catchweight of 155lb.
Yet the belts feel almost secondary given the caliber of the contestants and the opportunity to for a legacy-defining win that awaits.
Updated