"About 3.50am this morning, we received multiple reports from members of the community of a man brandishing a shotgun in the main street of Queanbeyan," Assistant Commissioner Barrie said.
"Responding police first sighted the man in Crawford Street, further shots were fired, he then moved into [Monaro] Street and then into Lowe Street, where he confronted an officer responding from the police station.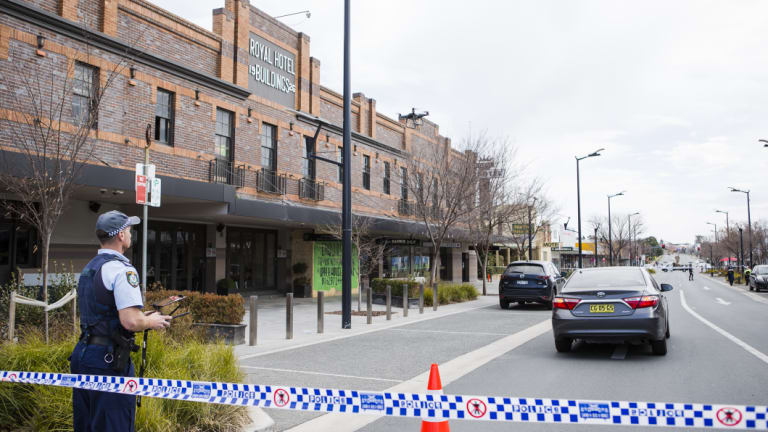 "The man refused to surrender at that point, he was shot once in the hip although at that point he remained conscious and quite vocal.
"He was disarmed, police and paramedics were able to provide first aid to the man and he was conveyed to Canberra Hospital, where he later underwent surgery and he is currently reported to be in a stable but serious condition."
The assistant commissioner said he did not believe that police previously knew the man, a middle-aged resident of the town.
He said the man also fired upon police, who had to take cover. A police vehicle remained in the middle of Crawford Street outside the Royal Hotel on Saturday morning, with a punctured front tyre and damage to its side. Shotgun shells were strewn near the vehicle.
About 10am on Saturday morning, a shotgun was still laying on the footpath of Lowe Street, outside St Gregory's Parish church. A pool of blood was visible nearby.
More shells were visible outside the barber shop on Crawford Street.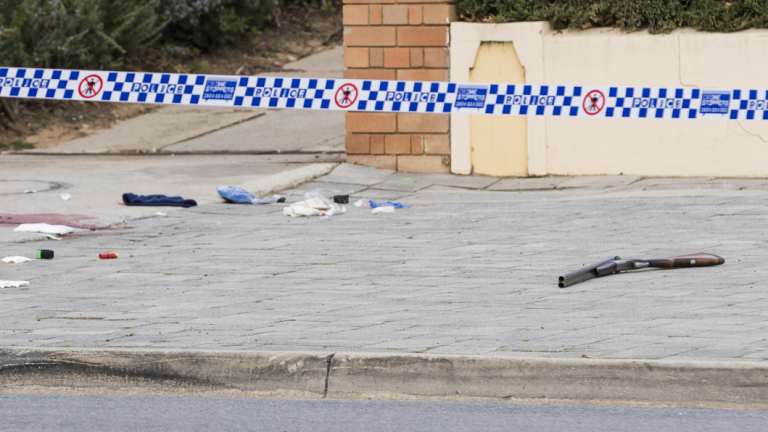 Assistant Commissioner Barrie said while no police or members of the community were injured, witnesses took shelter in surrounding businesses and were distraught by the events.
"It was a reasonably quick incident but suffice to say very traumatic to those that witnessed it," he said.
"We're pleased that albeit there was an injury to the offender that otherwise the community and our police are safe.
"We don't like to see any injury to anyone in these sorts of incidents, but we will respond and take action to these sorts of matters.
"We cannot let people discharge firearms in public places and continue to do so and put the lives of not only the police but the community at risk."
Walsh's Hotel manager Trent Miller said police had gone into the pub on Saturday morning to review CCTV footage. However, he said the offender had walked down the opposite side of Monaro Street.
"It's been the hot topic this morning," Mr Miller said.
"Everyone's woken up and seen the news and wanting to know what's happened.
"It's not something that happens every day."
A NSW Police spokesman said a critical incident team would now investigate the incident, including the discharge of a police firearm. That investigation will be subject to independent review.
Assistant Commissioner Barrie said there was nothing to suggest the incident was terrorism-related.
"It is a test for our officers and I think they've established just how effective they can be on the street," he said.
"We hope we've maintained public confidence in the ability of our officers and I think we demonstrated that in the course of the night."
Some of the streets surrounding the scene remain blocked off.
Police are urging any witnesses to call Crime Stoppers on 1800 333 000.
Esther Han is a health reporter at The Sydney Morning Herald. She has previously been consumer affairs editor and also covered food and wine.
Elliot Williams is a reporter for The Canberra Times