Khushbu Shah is back in Rice's Creek, the tiny community in North Carolina that she visited earlier this week, as the storm approached:
Rice's Creek is up 15ft since Wednesday, Alex Tatum thinks, standing where his girlfriend Mandi Dreeland stood just days before.
Only the tip of the sign is poking out from the water and in a few hours, it may be completely submerged. The rain hasn't let up for the better part of three days, with huge log jams of water across all of the yards.
Their double-wide trailer has held up for the most part. Creating a fort with four couches, Dreeland spent the last 24 hours without power, going through the yoohoo supply and five packs of Marlboro menthol blacks. It's pitch black in the home, but dry. Three coolers full of beers, Dr Pepper and Mountain Dew line the wall.
"Tim Buck and his family just left," Nicole Tatum, 49, tells her son as she walks over to his house from hers, in flip flops and mascara, under the deluge of rain. She whips out a picture of an alligator on the bottom of the steps to the entrance to Tim's backyard. The water has reached one of his buildings. She has come over to tell Tatum and Dreeland she will cook a meal, with her generator running.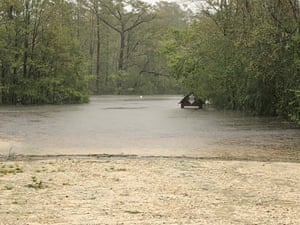 "I've packed up all of our papers, computers, jewelry, pictures, letters from my mom, to keep them off the ground in case it starts flooding," Alex's mother says.
Tatum's stepdad, Chris Hamrick, lists off all the food they'll put on the grill later: pork chops, chicken, baked potato and corn.
"The power went out at 5.38am," he says. "I know 'cause I got up to pee."
"You're gonna get real wet," Raymond Hill says, watching from his porch.
The remaining hurricane watch group put on rain boots and coats to head to Hamrick's dad's house – his father, who has one leg, left on Thursday morning – and fire up the generator. Tatum's mom stands over the stove, cooking bacon and eggs. All the while, the rain continues its steady onslaught over the "town" of Rice's Creek.